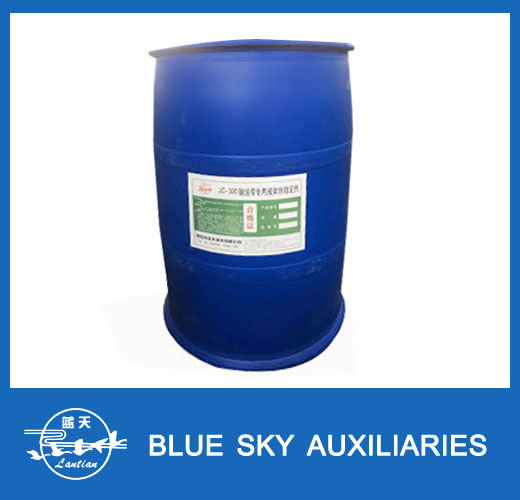 JC-320 Conveyor belt special liquid heat stabilizer
Chemical composition :
Heat stabilizer is made of multiple metal salt of organic acid ,couple with various effective auxiliary organic components.
Appearance: colorless to yellow oily liquid
Acid value : ≤0.1mgkoH/g (With methyl check indicator)
Metal content : ≥6.0%
Application characteristics :
This product is special heat stabilizer of PVC convey belts and is advanced goods of Beijing JC-310.
Its feature is high heat stable rate, excellent long-term thermal stability and less number of copes. In per hundred of resin, 1.0-1.2 part of JC-320 can totally replace "Three salt", "Two salt" and C-102 organic tin or all Barium stabilizer and cadmium stabilizer based on added copies. In addition, it can omit the grinding process of lead salt and save major recipe cost, artificial and power consumption.
Our products are environmentally friendly without toxic heavy metal of lead, barium, and cadmium. The excellent transparency of our products can match organic tin . It can used to make environment friendly products, such as transparent soft products, soles dichotomanthes, artificial leather fabric, cars, sealing strip for door and window, etc.
The processing temperature is lower or so 10 ℃ than lead salt due to our products' function of promoting the plasticization.
Conveyor belt : JC-320 1.0-1.5 copy
Packaging : Drum and plastic cask , 200kg or 220kg per cask
Store period : The valid storage period is one year since production date. Stored at normal temperature and dry place.
JC-320 Conveyor belt special liquid heat stabilizer
JC-320 Conveyor belt special liquid heat stabilizer 2019-7-25 This article has been read 863 Times